MIG's creative headquarters in Boca Raton, Florida is home to 150 technical professionals + creative visionaries all under one roof…  a roof built upon a reputation of character, creativity, commitment & exceptional service standards.  We are a woman-owned, family-run organization dedicated to helping our clients shine brightly since 1979.  Located at the unique intersection of Creativity + Technology.
MIG Leadership
Nick Levy, Video Engineer
Joined The MIG Team in 2011
Career Inquiries
Working at MIG is MIGnificent! Our people are the true magic of the work we do. Individually, each member of the team brings a unique perspective to the project. Collectively, we represent a cross-section of talent from a variety of disciplines, all with a dynamically-unified singularity of focus: to help our clients meet and exceed their objectives with an outstanding impact.
Here's who we're looking for today:
MIG is seeking a strong,
high-level designer
with at least three-to-five years of experience in both digital design and animation. You must be capable of working in a small team environment where your individual contributions will affect the success of the project. You would be responsible for creating designs and animations that will be incorporated throughout an entire corporate event/show or marketing/experiential campaigns and collateral. We are looking for a motivated and energetic artist who takes initiative, enjoys creating a sleek design, and takes extreme pride in their work.
Required Skills:
• Proficient in 3D animations.
• Creativity and originality with a strong visual sense in a layout.
• Expert proficiency in Adobe CC.
• Knowledge in user interface layout and design practices and standards for interactive experiences across web, mobile, and other multimedia devices.
• Knowledge of producing original, engaging, production-friendly, and organized animation files within After Effects.
• Visual understanding of layout, design, typography, etc.
• Professional written and verbal skills with an ability to speak to a client.
• Familiarity adhering to company brand guidelines.
Additional Skills (Non-Required but a Plus):
• Proficiency in Cinema 4D.
• Familiarity with WordPress and any other CMS systems.
Proficiency in HTML5, CSS3, and Javascript.
Desired Qualities:
• Shows a knack for creative, beautifully polished static and motion design.
• Ability to handle multiple projects and deadlines simultaneously.
• Ability to work in a deadline-driven, time sensitive environment.
• Ability to work in a collaborative environment.
• Must show flexibility when receiving client or team feedback.
• Willingness to work under pressure in accordance with live events.
• Interest in discovering and learning new software and innovations within the industry.
Multi Image Group is looking for a full-time skilled and motivated
Video Engineer
to join our team of over 150 professionals in a world-class facility based in Boca Raton, Florida. The ideal candidate will have 5+ years of experience in live events and video production. Duties will include set-up and operation of Sony camera systems, Panasonic video switchers as well as Vista Spyder & Barco Folsom high-resolution switchers. A working knowledge of video recorders, playback systems (i.e., Playback Pro) and an essential understanding of computer networking are also required. Any experience with Watchout is a plus. This position requires traveling to locations throughout the US and abroad, up to three weeks a month. This full-time position includes a competitive salary and some excellent benefits.
Please forward resumes to
[email protected]
MIG is seeking applicants for a full-time, experienced
Scenic Shop Carpenter
.
The Scenic Shop Carpenter will work with a team of over 150 professionals working in a world-class facility based in Boca Raton, Florida and will report directly to the Director of Scenic Production. The Scenic Shop Carpenter will be involved and responsible for design, fabrication, and installation of theatrical set/scenic pieces for high-end live meetings and events.
Qualifications
• 5+ years experience
• Basic Knowledge of PC and/or MAC operating systems
• Basic Knowledge of Microsoft Office (MS Excel, a plus)
• Basic Knowledge of any CAD programs
• Possibility of travel and overtime as needed
• Must possess an ability to:
o Work well with others and be a part of a team
o Focus on the given task and complete in a timely manner
o Multi-tasking
Job Requirements
• Installation Manager on all large-budget installations (including going on-site)
• Build required set pieces to set request specifications
• Repair existing set pieces to show-ready status
• Faux painting specialist
• Metal fabrication experience
• PlexiGlass & plastics fabrication
• Mica finish work
• Graphics application
• Experience with table saw, chop saw, band saw, and pneumatic tools
• Prep & load trucks as needed
• Theatrical scenic experience, a plus
• Valid drivers license needed
• Employment is contingent upon passing background check
Show Site
• Assist with loading in / setting up / loading out of scenic pieces.
• Coordinate with, and oversee, labor to ensure accurate and quick setup and strike
• Assist with rigging, audio, video, and lighting as need (no experience needed)
• Stage Management – Interact with clients and speakers in an upbeat, positive, and professional manner
Travel is often required and hours beyond the usual 9-5, at times including weekend work. This position offers growth potential for anyone who displays a great work ethic, a will to succeed, and a great attitude. Communication skills are key since you'll be working with a wide range of people including creative types. Successful scenic carpenters are team players that can manage multiple projects with multiple deadlines.
Please submit resume via our website form, or to [email protected].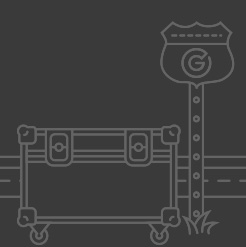 Feel free to send us a message and a MIG Representative will be in contact within 24 hours.
Connector.

Phone

Toll Free: 800.523.2682
Main Office: 561-994-3515
Fax: 561-241-1616

Connector.

HQ Location

1701 Clint Moore Road
Boca Raton, Florida 33487
United States of America

Connector.

Email