 Inspiring Virtual Venues
Virtual Sets for Events, Meetings, or Conferences
MIG has the expertise to build custom sets for your virtual event, meeting, or conference! Our custom set design tools and VR technology programs can help you create environments that are engaging as physical, in-person venues. Transport your audience anywhere, at any scale, in environments designed to match the moment and the message. Explore our library or have our 3D scenic artists create a custom world for you.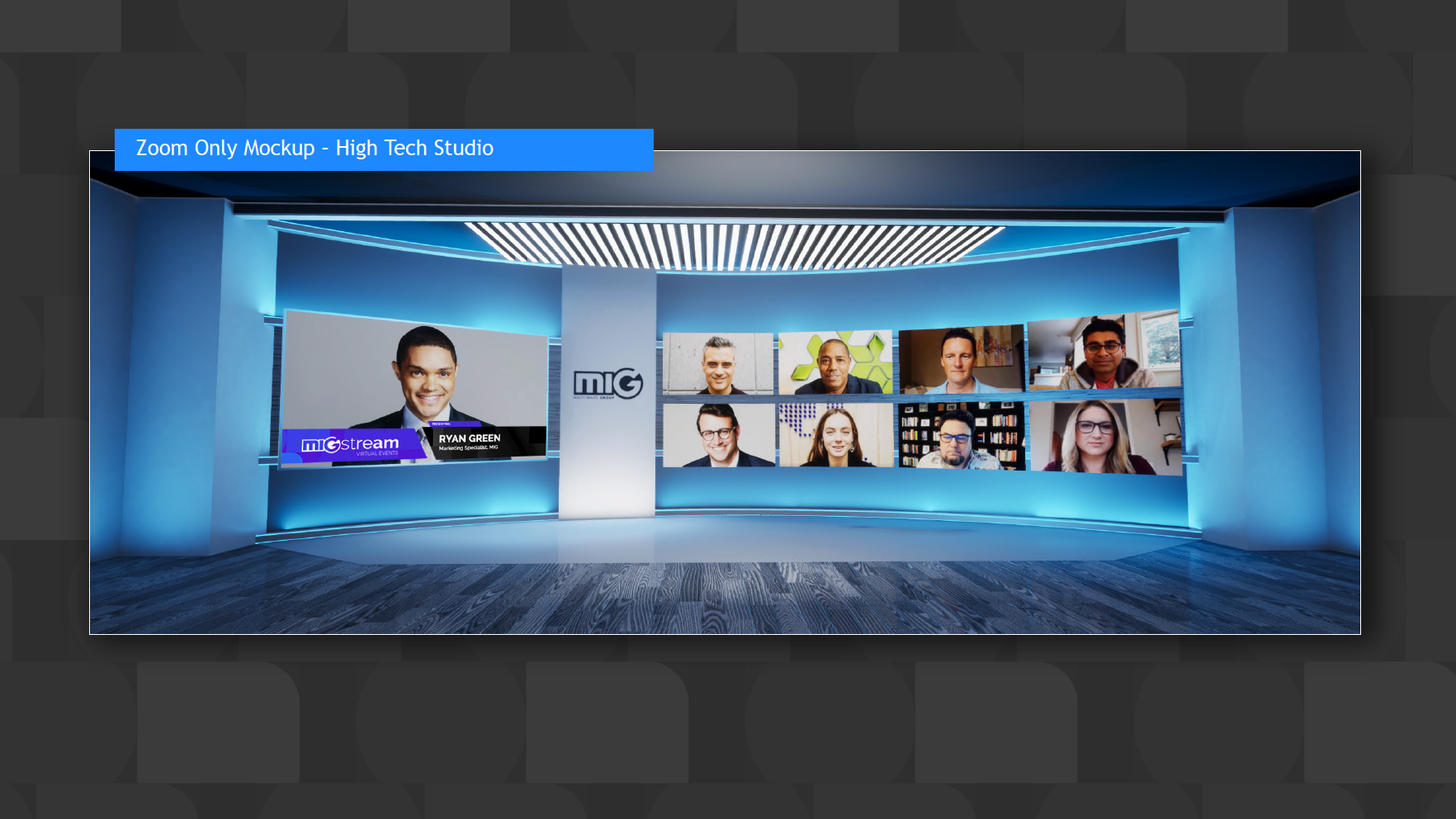 This high tech studio is a clean and contemporary presentation space with presto walls to display your presentation graphics, videos, and animations. Additional screens can appear with your presenters with custom lower thirds and supporting graphics. Subtle uplighting in your brand colors will give the entire space depth and dimension, while the two types of flooring (wood plank/marble) add visual interest and a modern feel to the environment. The textured strip background replicates a beautiful natural stacked stone tile, while ceiling grates draw attention to the speaker to complete the look.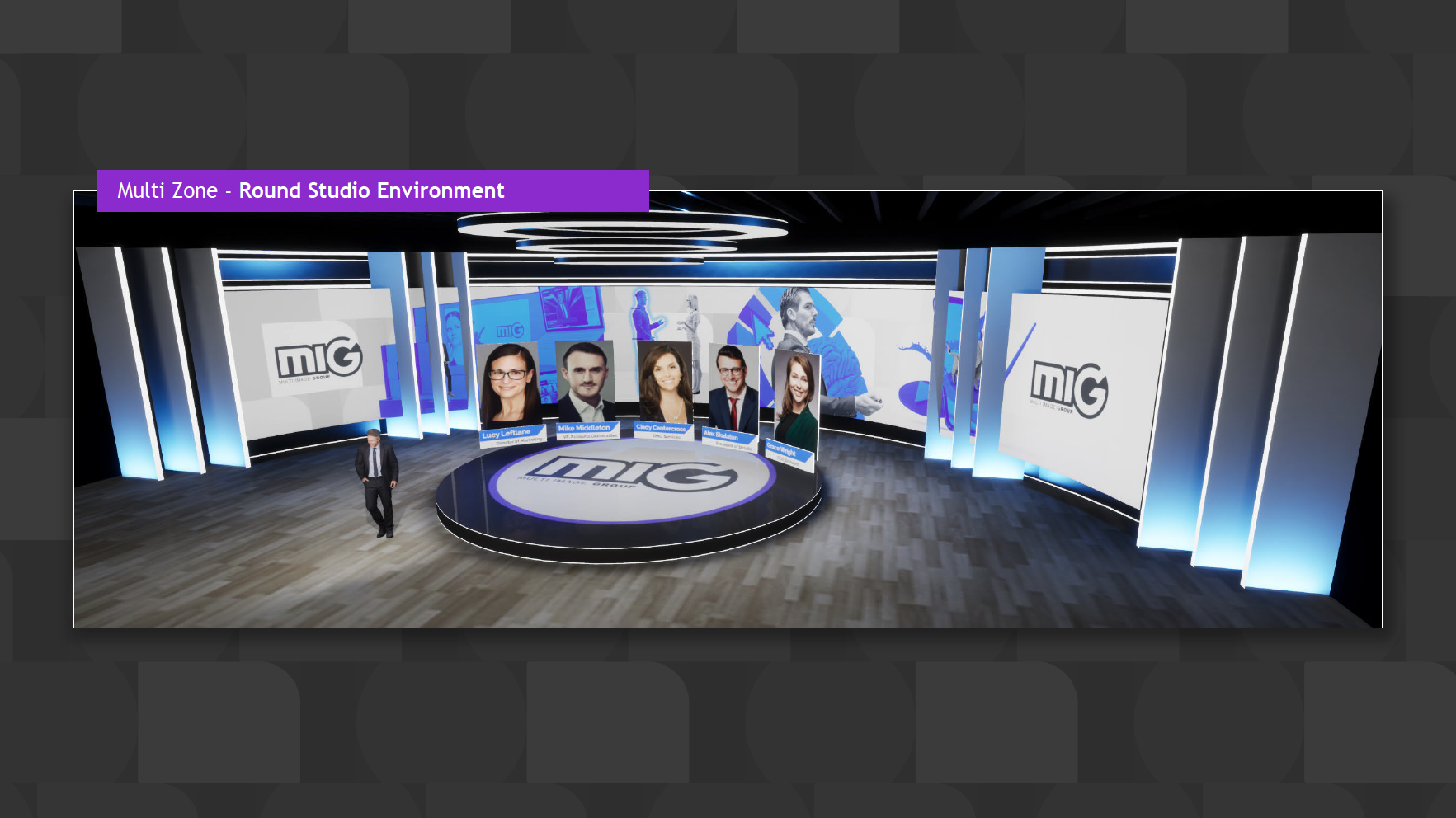 Our studio panel virtual set provides maximum flexibility. The panoramic rear screen and center logo button create the perfect atmosphere to hold an interactive virtual event. Presenters, graphics, or videos can appear on the center screen flanked by the viewers. We can take any presenter, viewer, or media asset full screen for emphasis during the session. Any portion of the rear screen can be dedicated to any part of the presentation.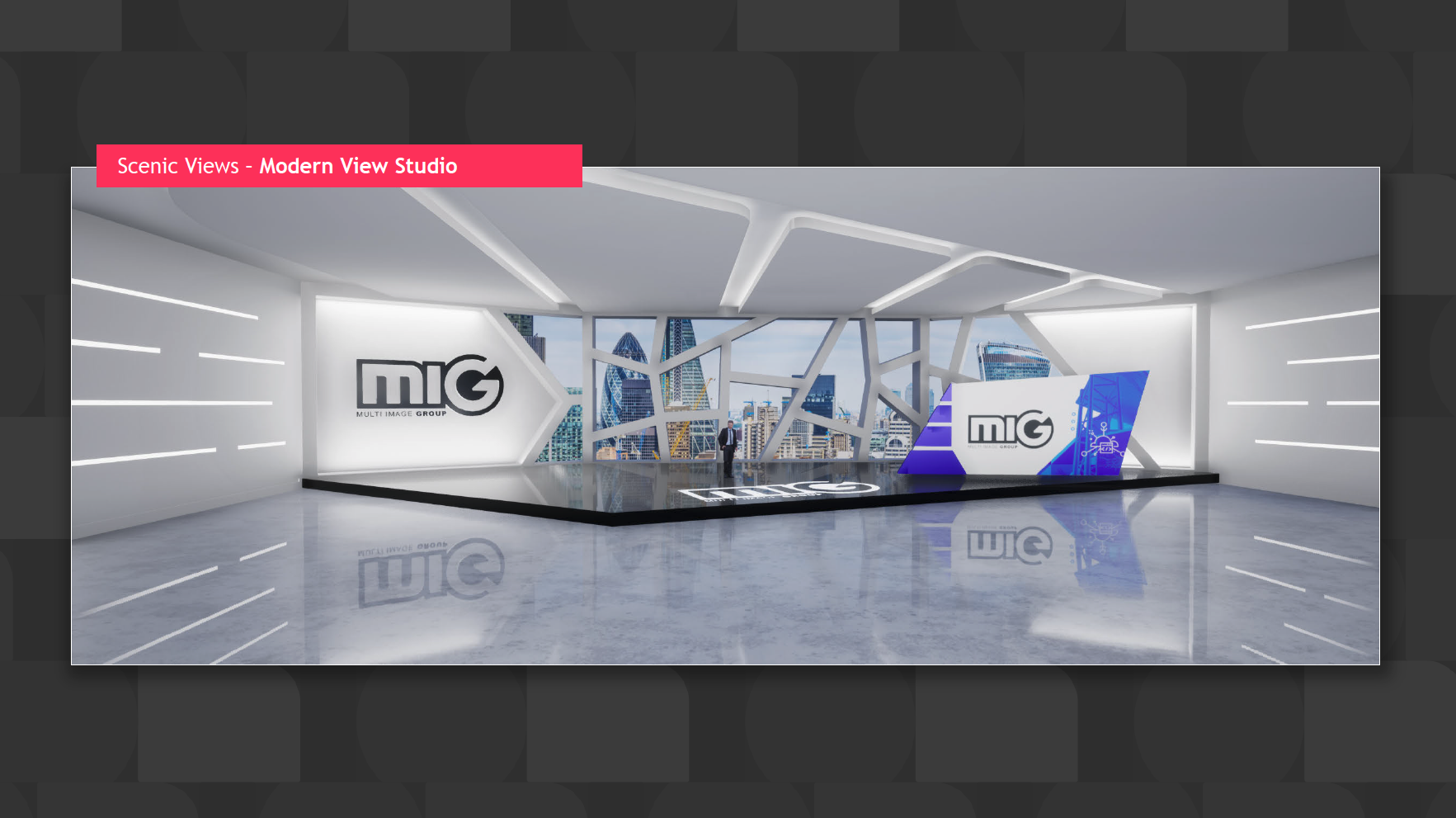 Our sleek, modern view studio allows for an open feeling to your event while also allowing multiple areas to present from within the space. The set features any city skyline in the background. This design includes an extensive 3D logo treatment and a unique branding surface on stage left. In contrast to a ballroom environment, we can let the sunshine in (virtually) while not diminishing the clarity of essential messaging across the virtual world.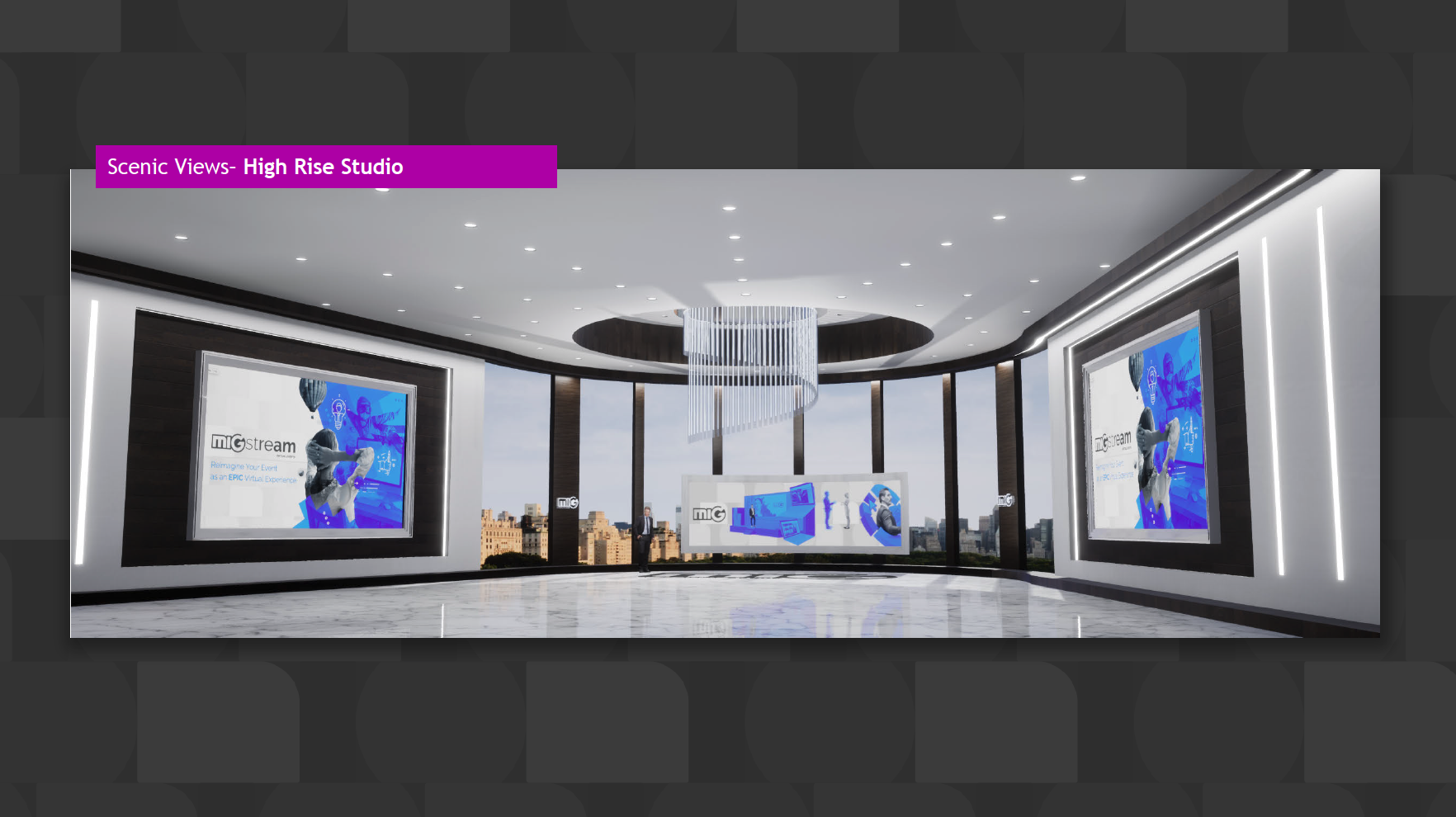 Scenic High Rise Building Set
This upscale, elegant virtual environment is a modern option to host an executive event or gala. The center screen is intended to hold supporting imagery and presentation graphics. The set features several virtual art installations such as a crystal chandelier and floor to ceiling presto walls to display content. The set features a daytime city background and can be customized to dusk or nighttime.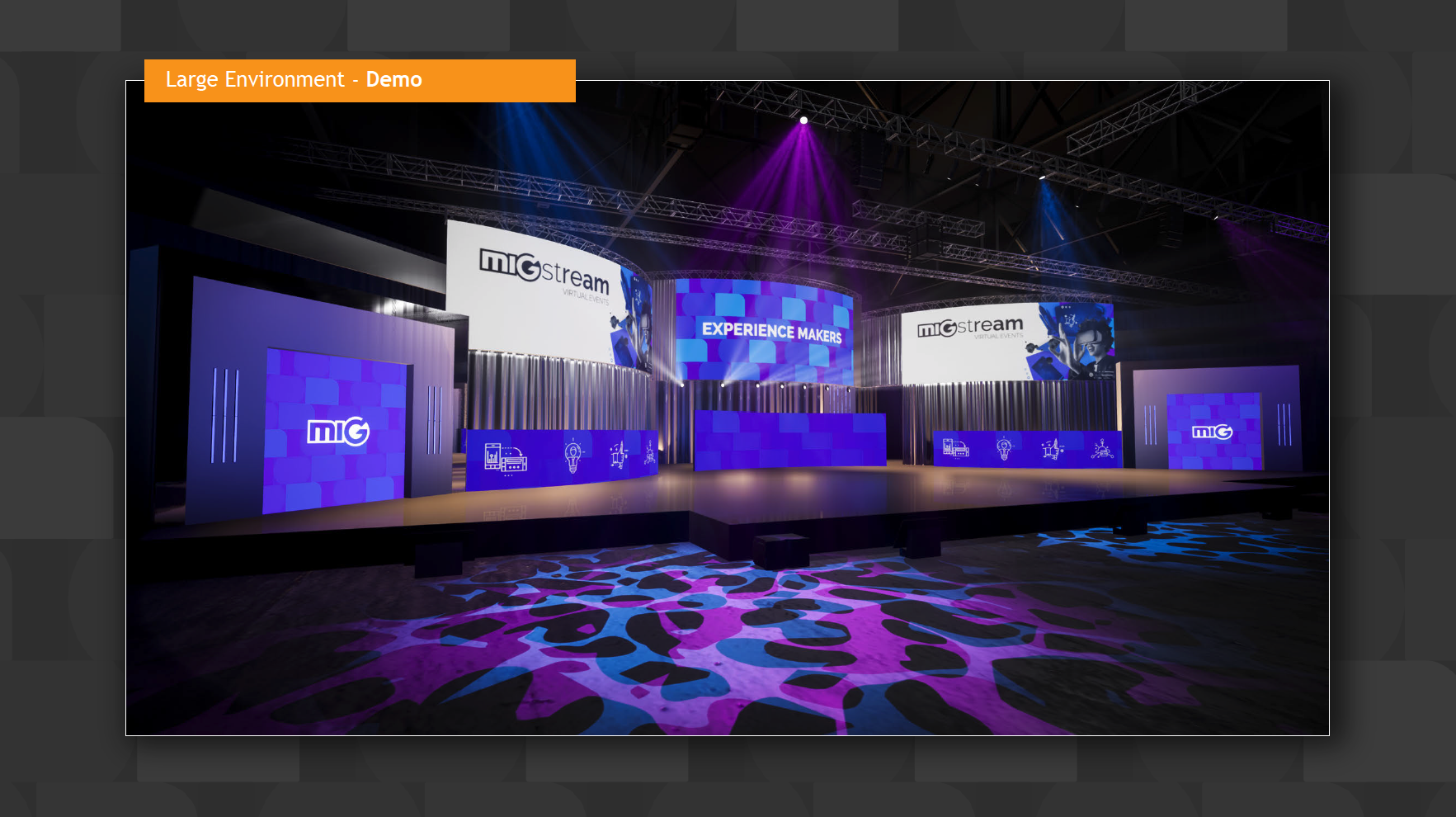 Traditional event environment
This large virtual indoor environment mimics the look and feel of a traditional in-person scenic in a convention hall or ballroom. Our scenic designers can create dynamic stage lighting for a dramatic backdrop. The set is also the ideal platform for adding VR graphics or other 3D elements to the presentations.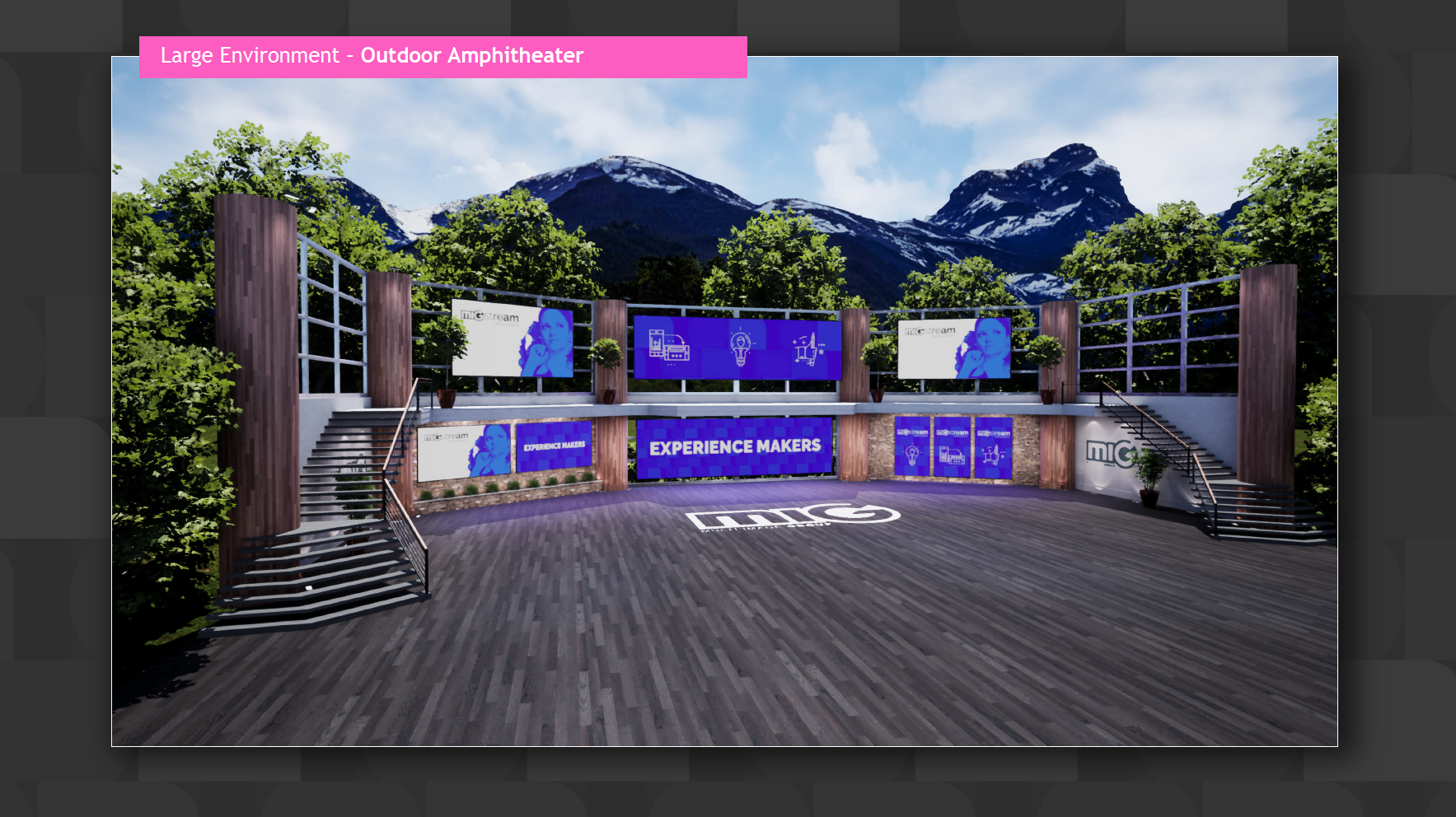 Outdoor Amphitheater Environment
Take your sustainability event theme to the next level with an outdoor amphitheater environment. Virtually transport your speakers and attendees to this wooded, mountain-backdrop landscape. Your virtual stage has many areas to present and engage with your audience. We can use any of the screens to present and bring in webcam guests into the virtual environment.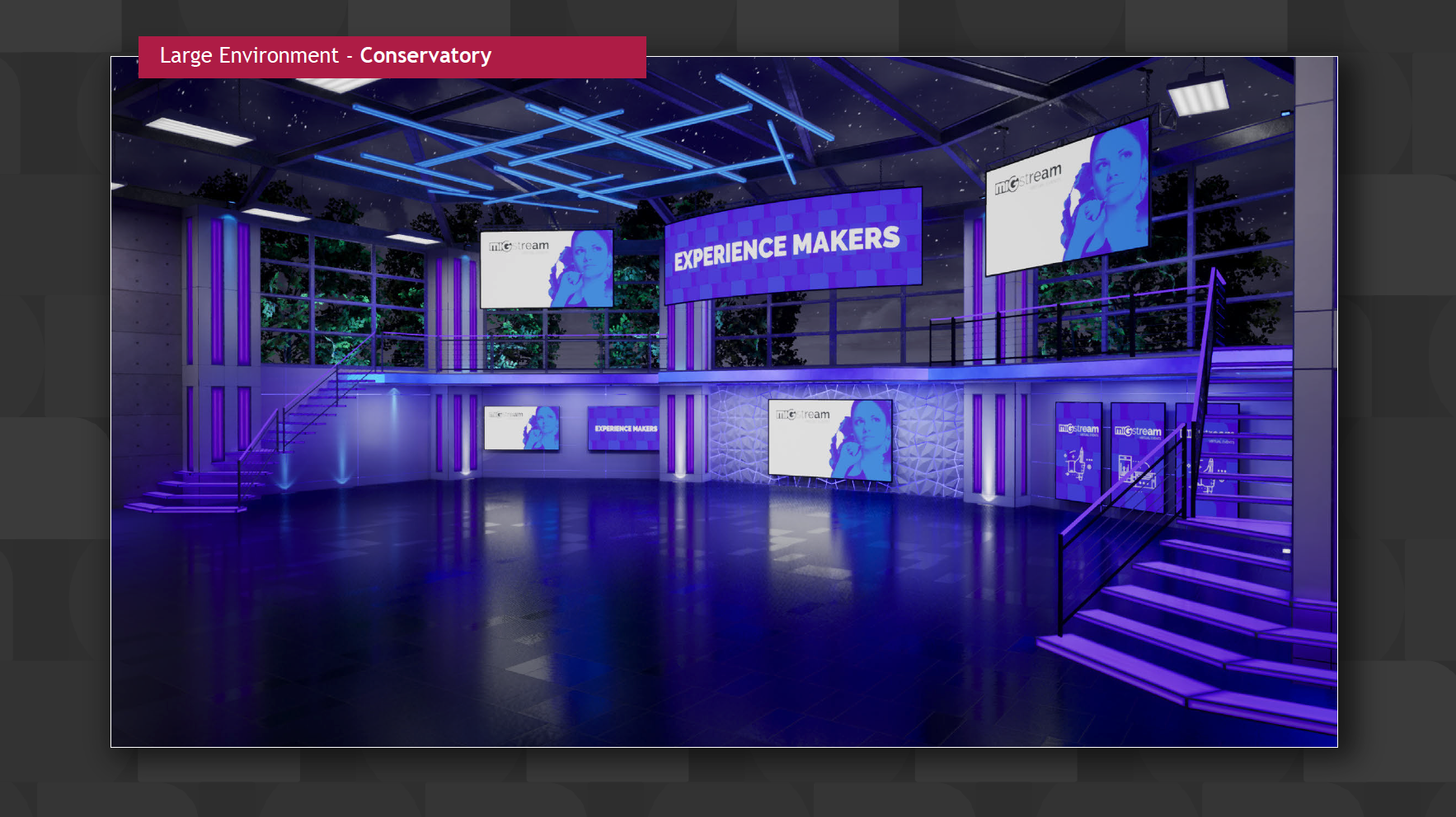 Indoor Conservatory Environment
Our indoor conservatory design features multiple areas to present and showcase your products and information. The large center screen provides for live presenters and embedded presentations such as PowerPoint or animations. Stage left, the perfect place for panel discussions and remote presenters. Stage right, we see a large area for presenting videos and one-on-one interviews with remote guests. Above the stage are large and impressive screens for amazing wide shots.
MIG believes in the power of bringing people together, keeping communication flowing and strengthening communities—no matter what is going on in the world. Enter… MIGstream!
---
MIGstream delivers the virtual technology know-how and live event expertise you need to transition from live to virtual – taking full advantage of everything the broadcast medium has to offer, so you can amplify your message and unify your audience in new and exciting ways.
The MIGstream Team specializes in producing online events for town hall meetings, quarterly wrap-ups, sales and training meetings for a limitless number of attendees using the virtual environment and broadcast design elements that work best for you. We take care of everything from start to finish (from guiding you towards the right platform for your needs to audience communication) so you can focus on running your business. MIGstream's offerings include:
---