Multi Image Group and Volvo Penta Partnership
Multi Image Group (MIG) is proud to announce another successful show with longtime partner Volvo Penta of the Americas at the Progressive Insurance Miami International Boat Show 2019. MIG was presented with the opportunity of creating a unique, attention-getting booth for Volvo Penta. With the 40′ x 55′ display at the Miami Marine Stadium, MIG was able to design a floor plan with plenty of technology opportunities that led to an award-winning display!
Best Engine Display Award From NMMA
Along with six other awards at the Miami International Boat Show 2019, Volvo Penta was awarded the Best Engine Display designation from the NMMA for the best booth design among exhibitors in this category. Additionally, MIG helped Volvo Penta obtain this esteemed award at the Miami International Boat Show in 2017. According to a Market Watch press release, Ron Huibers, president and CEO of Volvo Penta of the Americas, states that "These seven major industry awards are an important validation of our Volvo Penta team's commitment to excellence, inspiration, creativity and innovation throughout our company, both at our global headquarters in Sweden and in the Americas...It's tremendously exciting to work with such a great award-winning team of professionals."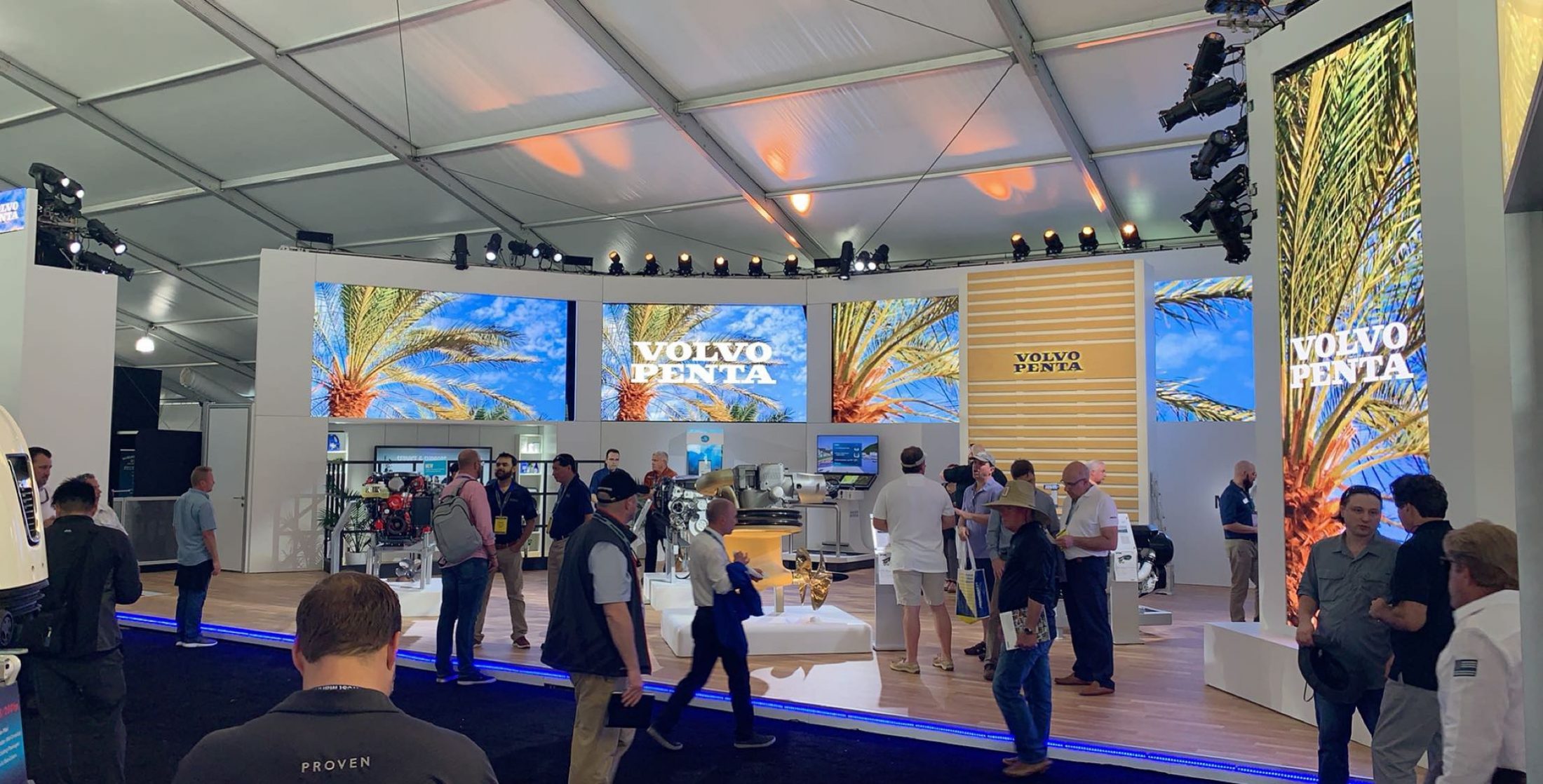 MIG Exhibit Design Services on Display
MIG maintains the entire display for Volvo Penta's Miami Boat Show booth, including all of the interactive touch screens and custom carpentry, plus audio and video productions. In addition, MIG joined Volvo Penta in their green initiative "Clean the Seas" by producing a booth entirely made of LEDs, which consumes less power. Furthermore, the scenic frame system was made almost entirely of a reusable beMatrix system, to showcase further sustainability efforts.
MIG's exhibit team designed the entire display experience with custom scenic elements:
Custom Lounge - 80-inch presentation touch screens.

Digital Scenic - InfiLED 3.9mm LED Displays powered by Green Hippo's media servers.

Stage Set Elements - LED Marquee Surrounds and Light Tower Surrounds.

Modular Scenic Elements - beMatrix Seamless Wall Solutions.
Overall, the award-winning display was constructed with a combination of quality products, reusable materials, cutting-edge technologies, and exceptional work by MIG's exhibit team. MIG looks forward to our continued partnership with Volvo Penta of the Americas! MIG's exhibit design services specialize in customized trade show booth design and fabrication with interactive product integration, which results in an immersive environment for attendees to truly experience your brand.