Welcome back live events! Here at Multi Image Group, we have fully ramped back into live events, expos and interactive experiences. It's good to be on the road again and working with our amazing clients to create epic experiences. While many of our clients were happy to get back to bringing their attendees into the real world, we also see a new opportunity to introduce some of what we learned from virtual events to the live stage. Here is a shortlist of some tips for going live and beyond.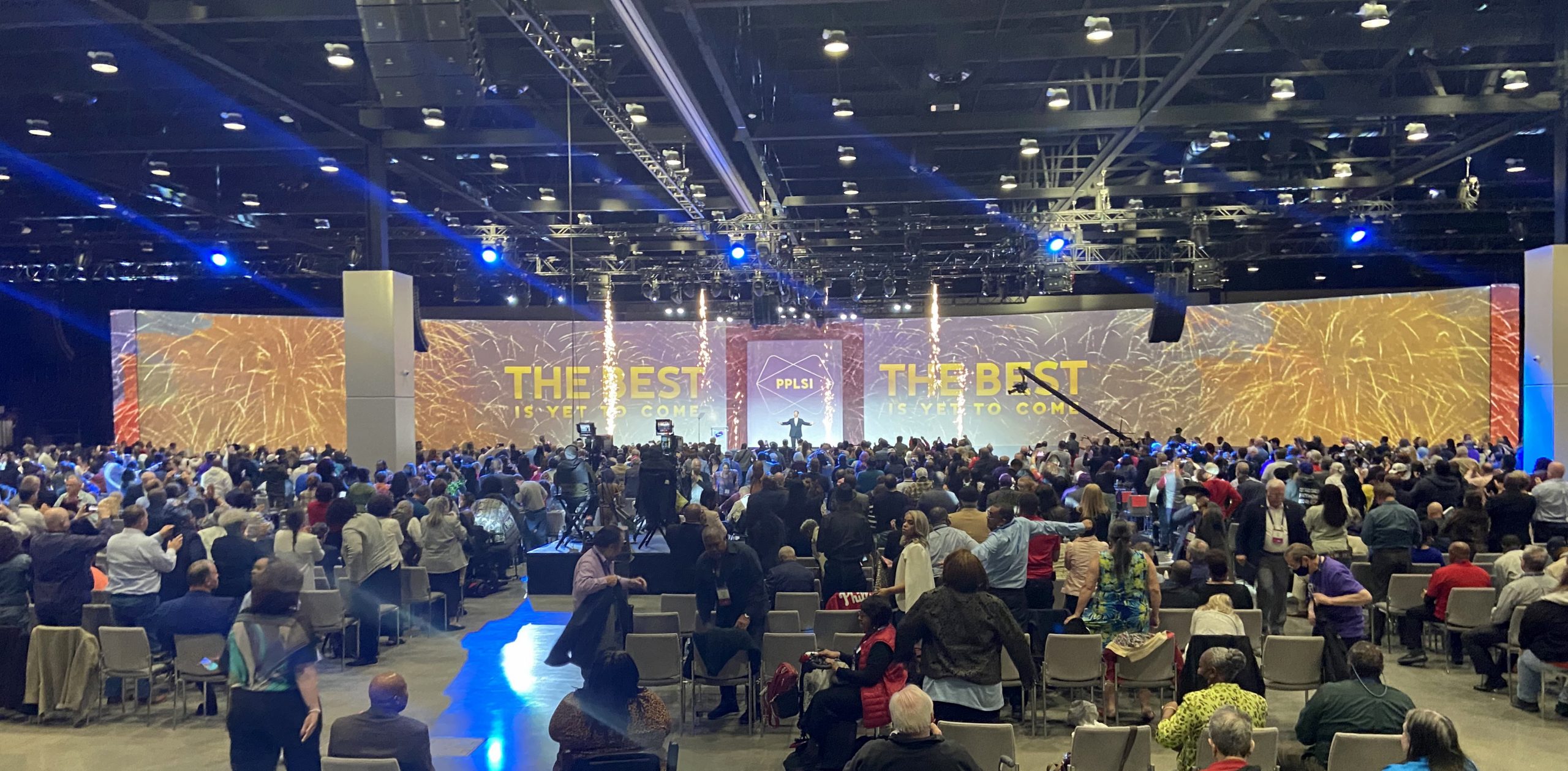 TIP #1 Connect with your audience
---
We love to help our clients connect with their audience.  Finding ways to incorporate your audience into the show throughout the event will improve the engagement and message delivery.  Staging for events will become more inclusive, with designs that focus on the attendee experience.  Theater in-the-round will bring audiences closer to the stage and create a more intimate and engaging feel. Exhibition-style events can give attendees a chance to explore and discover a plethora of focused topics as they create their own story with your messaging. Attendee panel discussions and round tables can elevate perspective and story elements too.
We've also been creating some great presentations with executives who share the stage with employees.  And of course, let's not forget the celebrations and entertainment! Now that we're back to live experiences, we've spent some good energy on our best-of-the-best celebrations by spotlighting their achievements throughout the event.   
TIP #2 Present with purpose
---
Always look for ways to leverage various methods to drive engagement beyond the ballroom. Our team has worked with hundreds of executives to create exciting presentations that incorporate new digital effects such as Augmented Elements and videos as well as more dynamic content to help drive key messages.  Think of the possibilities! We've incorporated executives from remote locations onto the live stage as holographic presenters with dazzling results.
Segmented presentations help to drive impact too - that is to say, taking a single point and using multiple presenters to tell the story.  This helps the audience engage and makes for a more exciting presentation. Go digital too. Some of your show should still offer virtual compounded - whether incorporating remote presenters or sharing certain parts of your event online for the larger audience. 

TIP #3 virtuality experiences
---
Many of our live events continue to have a virtual component. Our clients see the advantage of sharing their live experiences with a virtual audience.  As we move forward, attendees will want to have a choice on how they participate at conferences and expos. This also means our clients can expand the reach of their messages and celebrations. It also allows for the chance to develop a stronger corporate culture and community. We see this area unlocking new ways to engage with attendees and potential new audiences. With the cost of digital streaming reducing and improved technology and security, a hybrid experience will continue to be an integral part of future events.  
TIP #4 content is (still) king
---
Live and virtual events & expos have enabled audiences to access content on-demand. Whether for training or communication, attendees enjoy consuming content at their own pace. Creating a library of content will further expand your audience and engagement beyond the ballrooms and exhibit halls. It also gives you a way to continue the conversation beyond the event and gives you a reason to connect with your team long after the last bus has left the venue.  This tool can also be used in combination with the live experience too.  
TIP #5 interactive = engagement
---
Perhaps the question that we get asked most about for exhibitions and corporate events is "How can I improve my attendee engagement?"  Aside from the ideas mentioned above, interactive solutions offer the deepest and highest potential for attendee engagement.  Mobile and digital kiosks can be coupled with any show to help drive messaging and maximize retention. We've worked with hundreds of companies to develop epic digital experiences - from virtual reality rollercoasters that thrill and educate, to multi-zoned interactive touch walls which attract and engage attendees to the newest products and services.  
To round off this read, the future is all about opportunities. New tools and methods that cater to a variety of engagement and learning styles.  It's a chance to break from the traditional and find new ways to excite your audience and you. Try something new to keep your attendees guessing. The best news is MIG's expertise in blending creativity and technology means that you've already got a partner who is poised to help you create your next epic human experience.