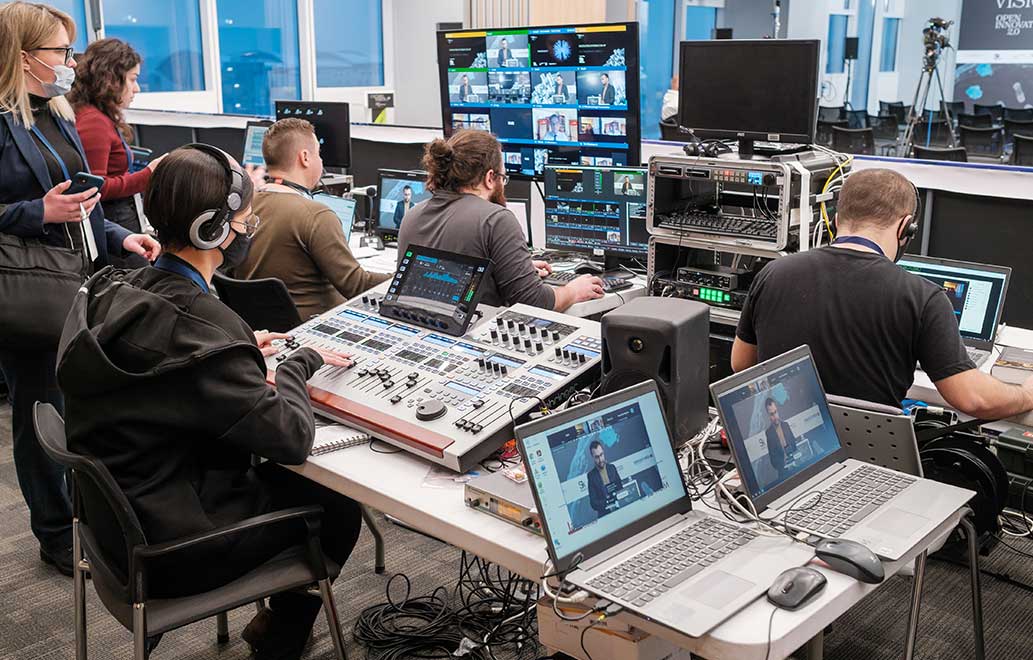 Planning and executing a flawless event requires meticulous attention to detail. But imagine the dread that may set in if the presentation malfunctions, the lighting is too harsh, or there's an unpleasant screech of microphone feedback. It is important for the audiovisual setup for corporate events and live experiences is perfectly executed. Therefore, consider an audiovisual production company to guarantee an event's success.
When it comes to handling an event's audiovisual needs, businesses can find themselves torn between renting AV equipment or partnering with a professional audiovisual production company. Here, we will explore the reasons why collaborating with a competent audiovisual business is the ideal choice for an event. 
Experience Ensures Impeccable Results
A seasoned audiovisual team possesses extensive expertise in their field. They can proficiently install a vast array of equipment, including screens, soundboards, and video conferencing systems, without causing any damage to the venue or leaving the client with a cumbersome mess to clean up. By leaving the technical aspects to these professionals, a company can focus on their core business while the AV people handle the intricacies of the audiovisual setup. Allow them to perform their duties, enabling your company to concentrate on what matters most.
Expertise in the Latest Technology
The world of audiovisual technology is ever evolving, making it challenging to stay up to date.  But by collaborating with an experienced audiovisual company, businesses gain access to cutting-edge equipment and the latest innovations for interactive media development and design. What's more, the AV specialist's expertise allows them to provide valuable insights on which products would best suit a company's specific requirements. By leveraging their knowledge, businesses can ensure their event is equipped with the most advanced audiovisual technology available.
Cost-Effectiveness
Partnering with an audiovisual company proves to be a cost-effective solution that provides top-notch service without the need to invest in expensive equipment that may only be used infrequently. The audiovisual company takes ownership of the equipment and bears the responsibility of its upkeep, eliminating concerns about storage or maintenance costs. This cost-effective approach allows their clients to allocate their resources wisely, assuring that the client receives exceptional service while staying within their budget.
Tailored Customizations
An experienced audiovisual company possesses the ability to tailor their services to precisely align with a company's event requirements. Through close collaboration, they work with the client to create a customized package that includes only the necessary services and equipment—no more, no less. This level of customization guarantees the businesses receive exactly what they desire and need for an event, assuring its success while avoiding unnecessary expenses. When it comes to superior stage and exhibit production, nothing beats the know-how of an experienced AV technician.
Well-Maintained Equipment
Collaborating with a professional audiovisual company provides the assurance that their equipment is well-maintained and in optimal working condition. They regularly service and update their equipment, so it remains up-to-date and compliant with the latest safety standards. This peace of mind is invaluable, particularly for events where the flawless operation of AV equipment is crucial.
Assuredness
By engaging the services of an audiovisual company, businesses can relax and fully enjoy their event without being burdened by technical aspects. The experienced AV staff takes care of all audiovisual requirements, allowing their client to focus on their guests and guaranteeing they have a memorable experience.
Bottom Line
There are lots of reasons why hiring a professional audiovisual company is the best choice for most any corporate event. Their expertise, ownership and maintenance of equipment, ability to customize services, and provision of peace of mind are unparalleled. When it comes to assuring a flawlessly executed event, a professional audiovisual crew is an invaluable asset.
Question: Who Is the Best Audiovisual Production Company? Answer: MIG
Harness the outstanding strategic ideation and expertise of well-established production company.
Multi Image Group (MIG) stands as the premier event production and communications company, specializing in live events, exhibits, strategic ideation and collaboration, technology engagements, multimedia, MIGstream and virtual events. We possess the end-to-end capabilities necessary to bring your brand story to life, captivating hearts through emotional connections, shifting minds through perceptual changes, and driving desired outcomes. For inquiries, please call our toll-free number at 800.523.2682 or our Main Office at 561-994-3515. Alternatively, you can conveniently reach out to us through our online form.