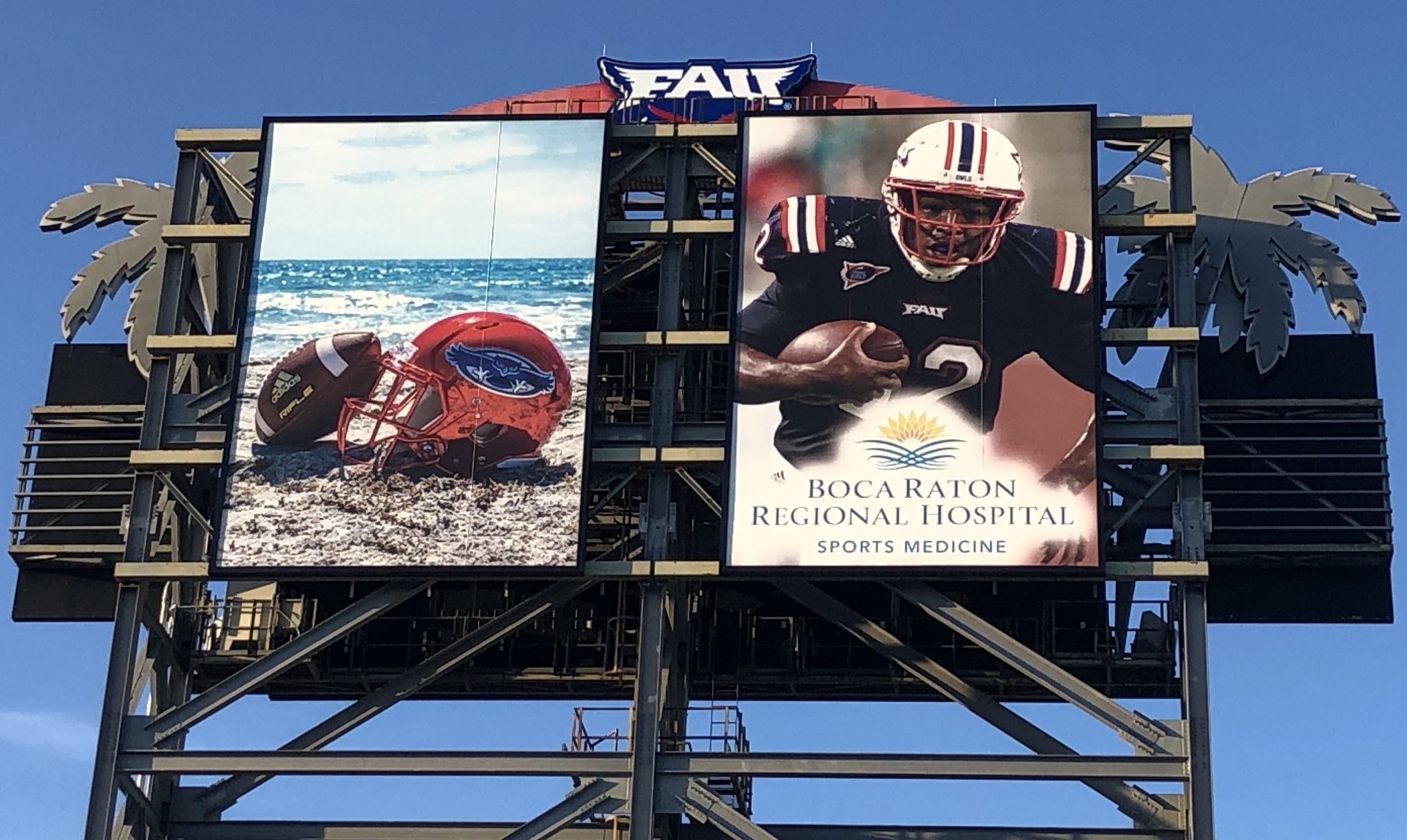 About the Cheribundi Boca Raton Bowl
The Cheribundi Boca Raton Bowl is a National Collegiate Athletic Association sanctioned Division I college football bowl game played in Boca Raton, Florida at FAU Stadium, which is located on the campus of Florida Atlantic University (FAU). Cheribundi Tart Cherry is the official title sponsor of the Boca Raton Bowl. The Boca Bowl is held in collaboration with AV Rental Depot (AVRD) and Multi Image Group (MIG). The Boca Bowl Press Conference is held at MIG Studios in collaboration with ESPN Events. AVRD is the official audio-visual partner for FAU and supports many of their events and installations, including a new TV Studio Set custom built this year.
ESPN Press Conference at MIG Studios
AVRD worked with ESPN Events to host the Head Coaches Press Conference at MIG Studios in Boca Raton, FL. MIG Studios is fully equipped with full 35′ by 30′ cyclorama, soundproof studio to meet a multitude of production needs, such as the press conference. This exclusive, invitation-only event included a live Q&A from the head coaches of both participating teams in the Boca Raton Bowl hosted by ESPN Events at FAU Stadium. The press conference featured head coaches Rod Carey from NIU and Bill Clark from UAB. Attendees of the press conference were able to network and mingle with local businesses and football fans alike. Overall, the press conference was a huge success filled with networking, refreshments, and college football.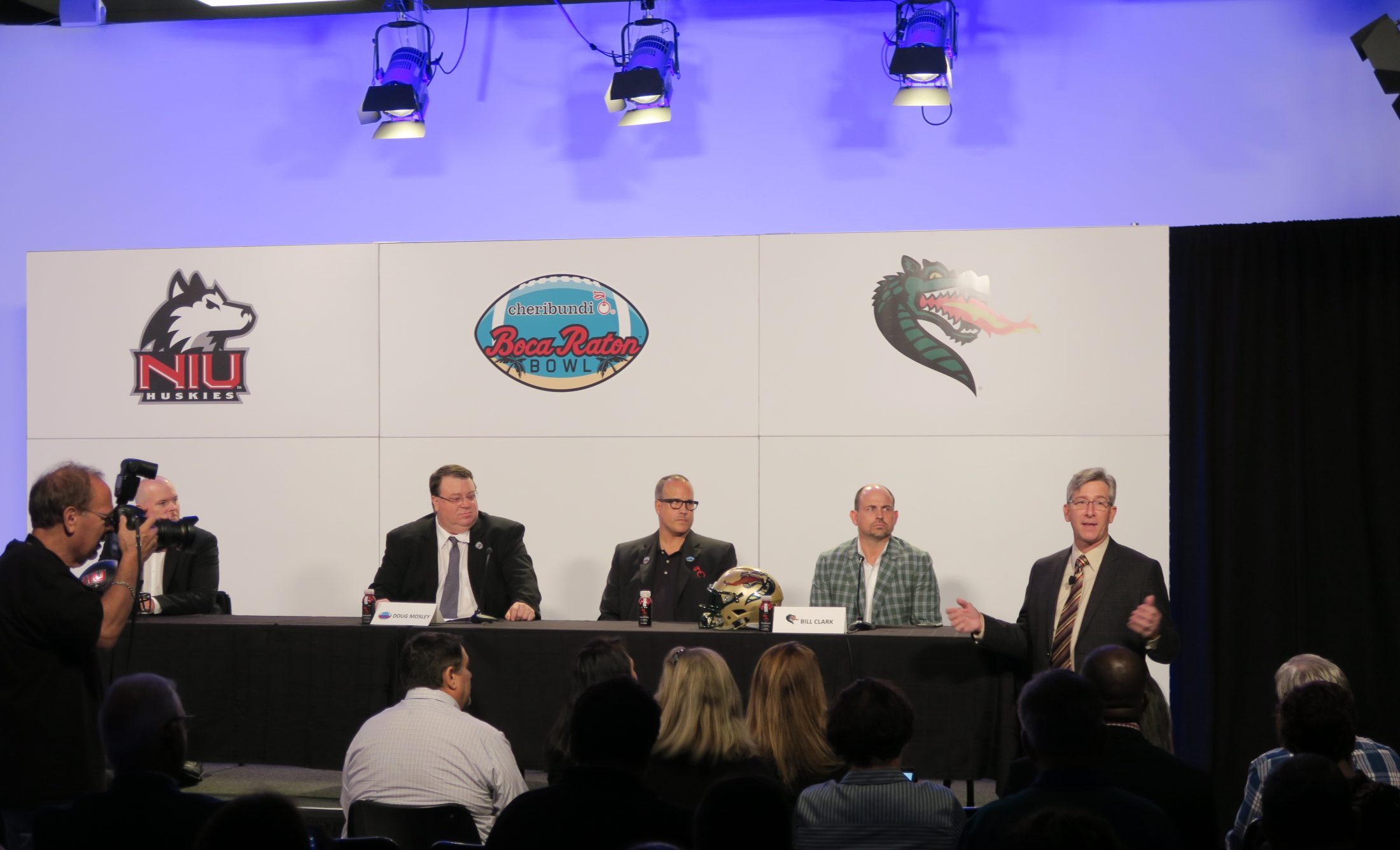 The Cheribundi Boca Raton Bowl at FAU Stadium
AVRD provided support for Florida Atlantic University Studium at the Cheribundi Boca Raton Bowl Game Fan Fest. The Cheribundi Boca Bowl participating teams for 2018 were the Blazers and Huskies. AV Rental Depot (a division of MIG) managed the production and technical direction for pre and post show coordination. Custom features included several white locker charging stations with branded signage and a VIP tent for a sponsored Boca Bowl VIP party. AVRD has provided full audio, lighting, and staging support for FAU since 2014.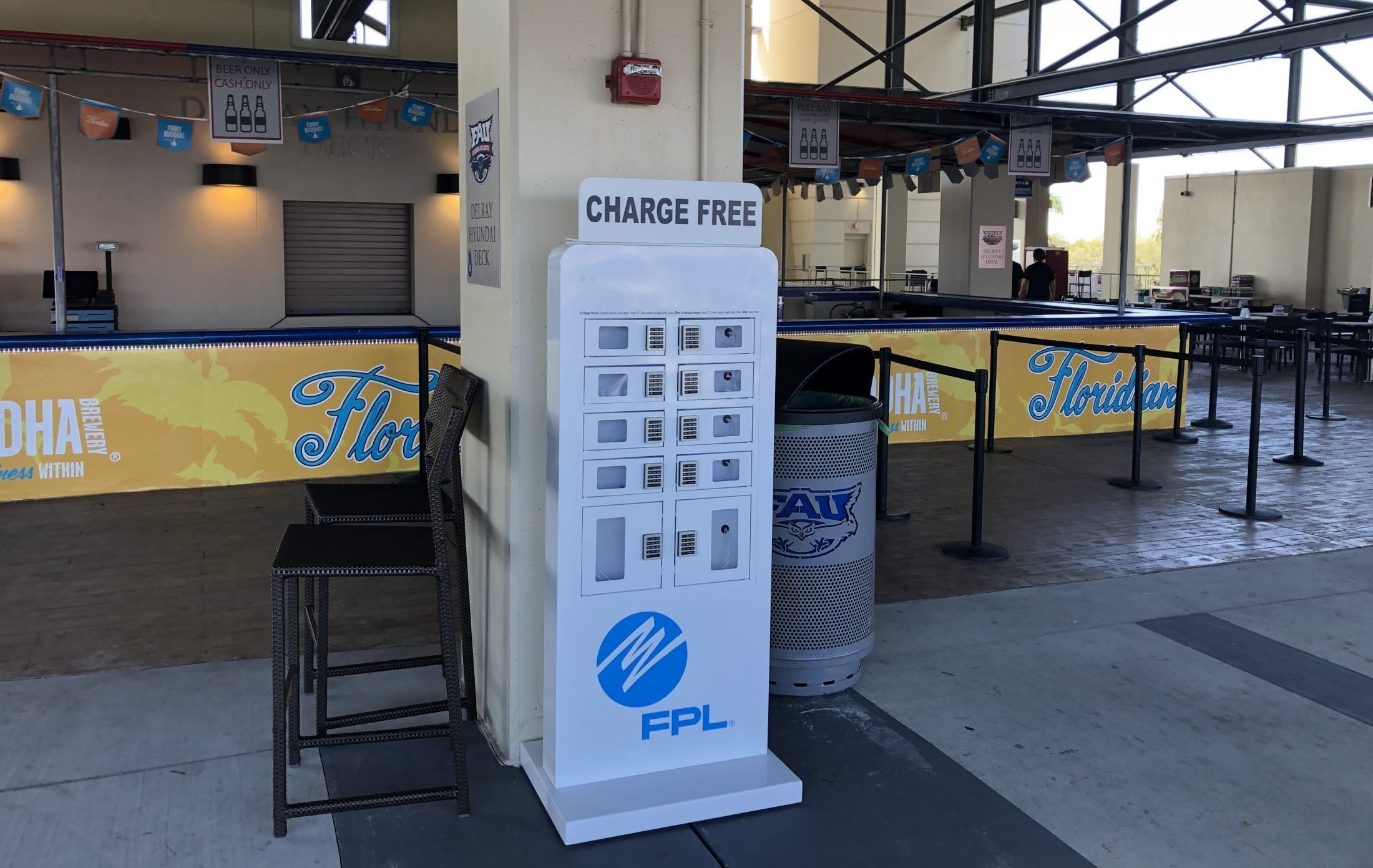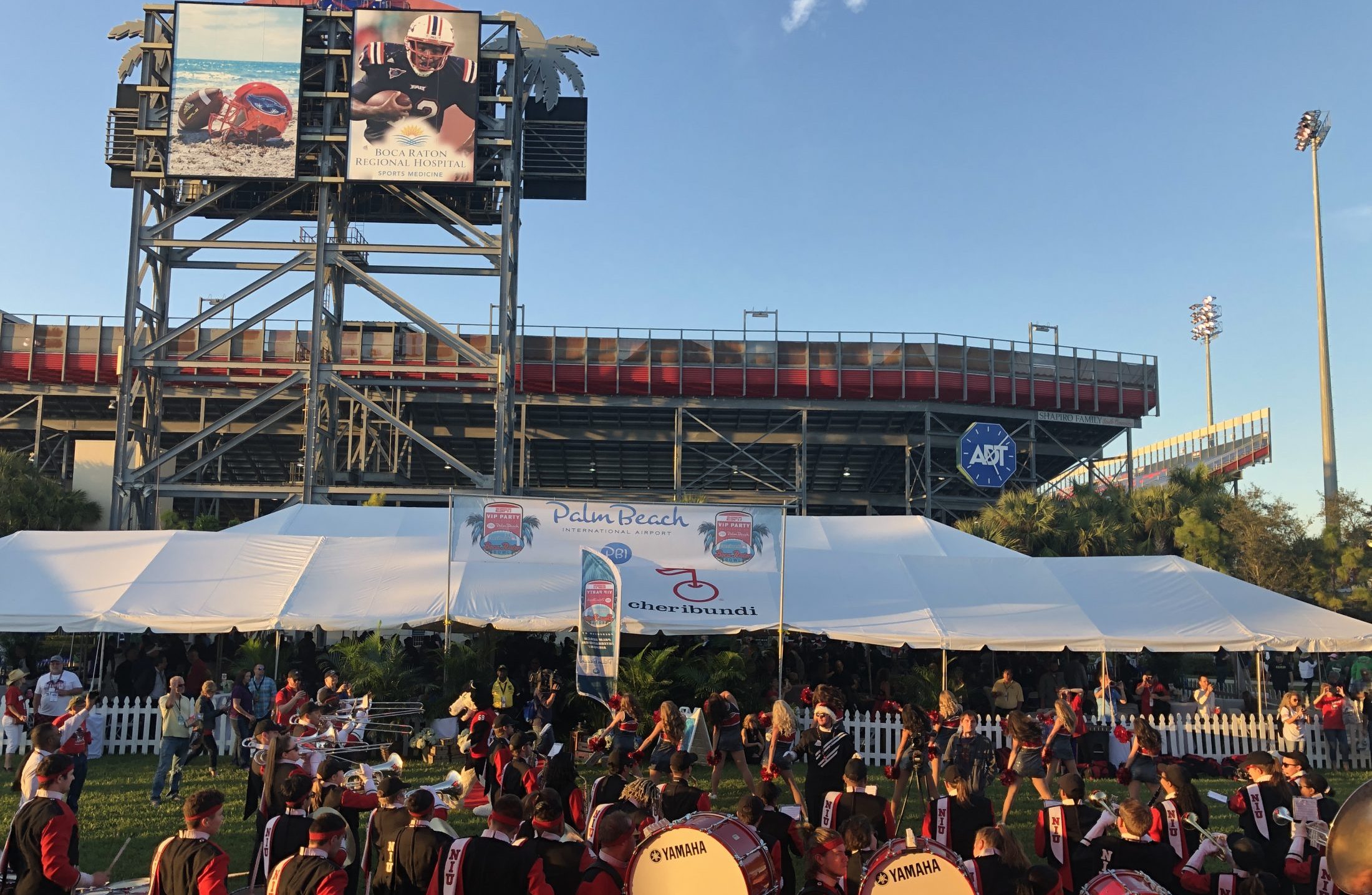 Florida Atlantic University TV Studio Set
The AVRD installation of the broadcast TV studio set was created using a two wall backdrop. MIG's Senior Set Designer worked alongside with the Master Set Fabricator to come up with a proposed design with unique cost efficient materials. A clean, modern look was achieved by using acrylic and anodized aluminum and color changing LED strips to illuminate many areas of the set. Edge lighting the acrylic allowed for the etched areas to illuminate while being transparent for back wall branding or illumination. Additionally, the mobile anchor desk has a thick acrylic top supported by a smaller non-branded base. Both top and base are oval and large enough for two hosts. Much of this set was prebuilt in the MIG set shop for a quicker install.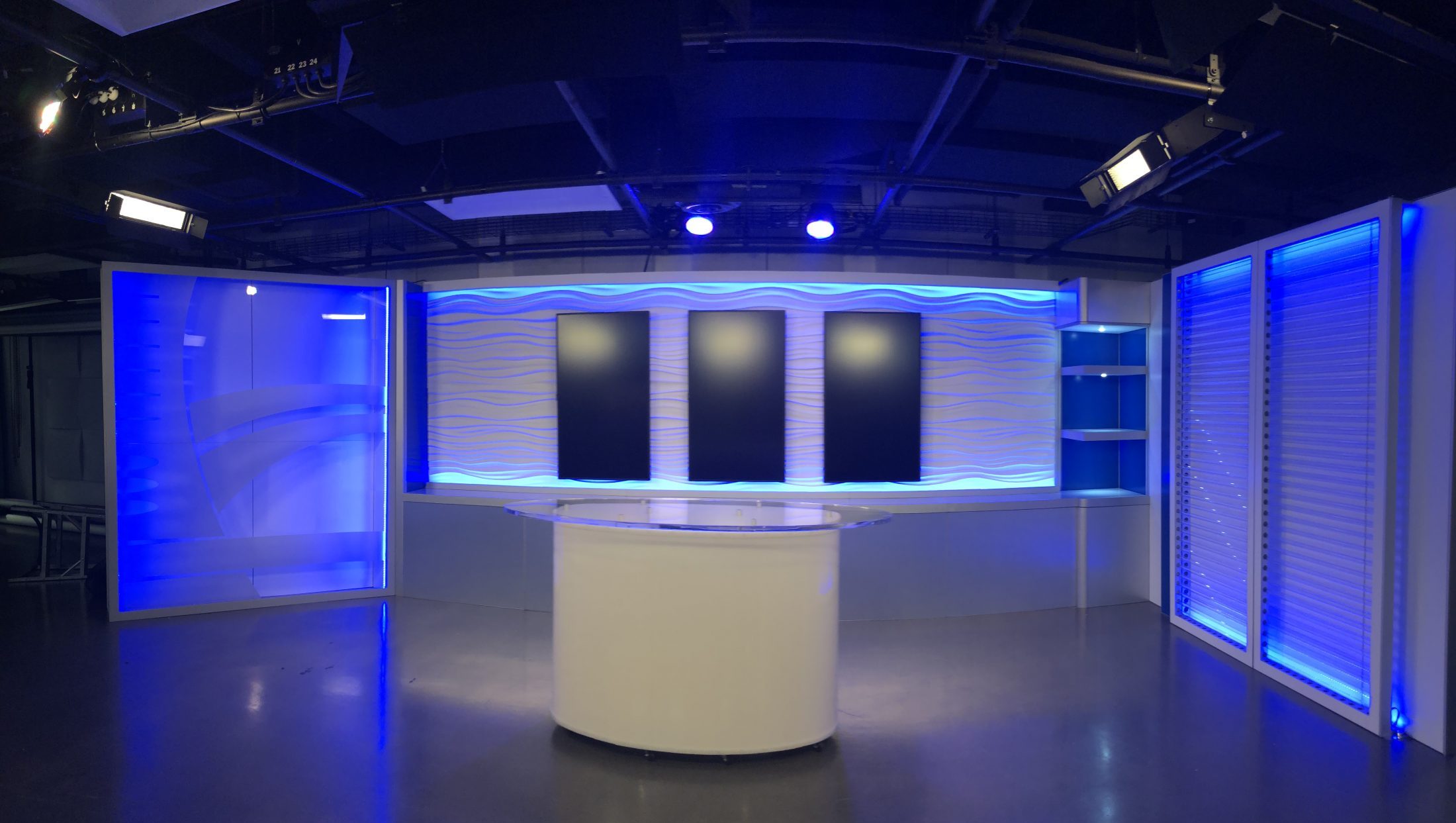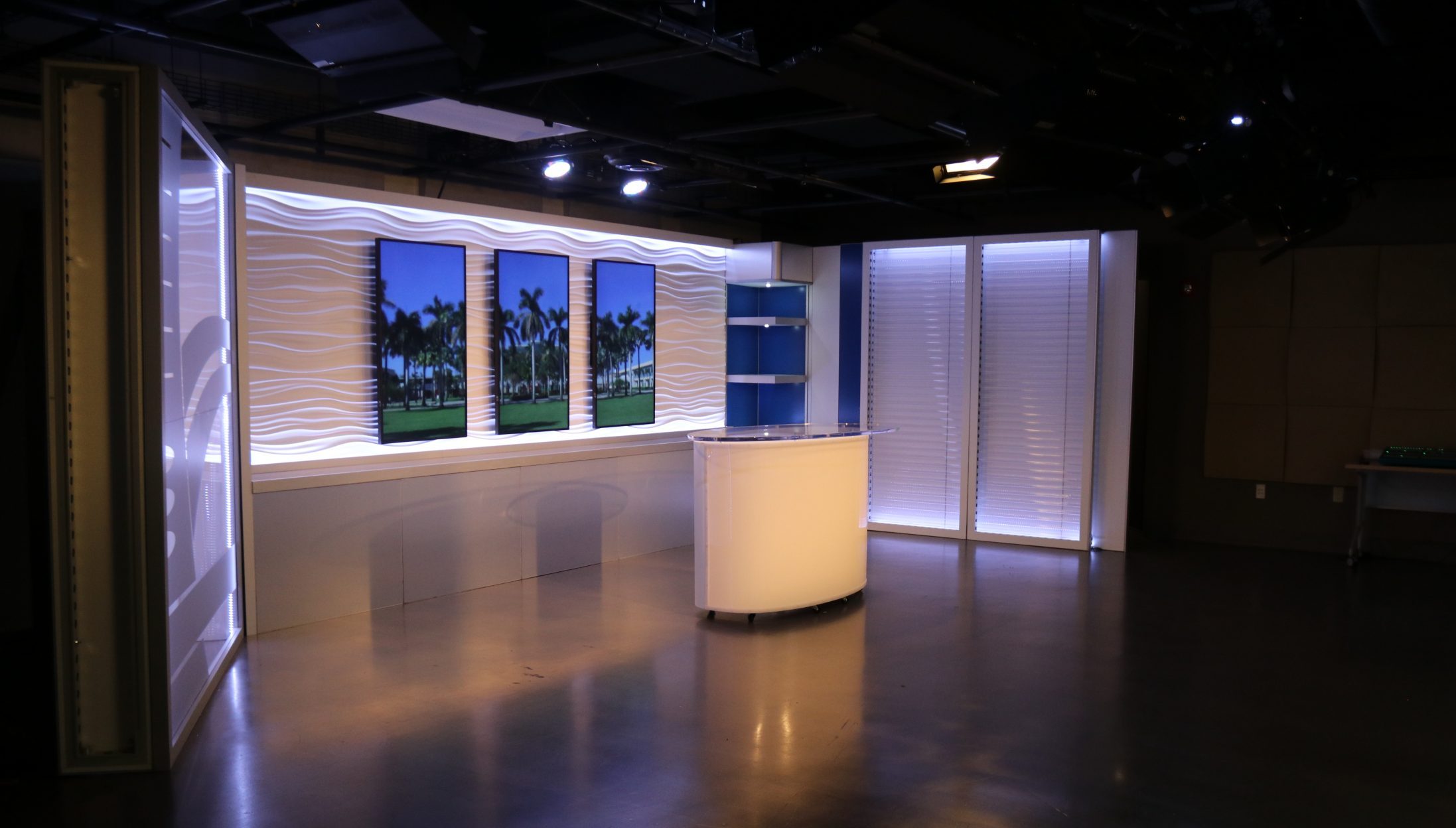 ---
AV Rental Depot and Multi Image Group Studios
MIG Studios has the tools and talent for your commercial, corporate video, music video or television interstitials production needs. In addition, our state-of-the-art AVID Edit Suites and Audio suites afford you the convenience and luxury of going directly from shoot to edit. AV Rental Depot (AVRD), a division of Multi Image Group (MIG), is the nation's leading resource for staging rentals, having built a reputation for character, creativity and exceptional service standards. AVRD is your most comprehensive supplier of live event resources in South Florida for sporting events, exhibits as well as video production.