Why should video production be a part of your event strategy?
A successful event is built on producing great content. Video footage capturing speakers, company executives, entertainers, exhibitors, and happy attendees from past events—this is all great content to include in your creative event strategy. You can also produce videos that crowdsource attendee insights, event topics, networking opportunities, giveaways, and location perks.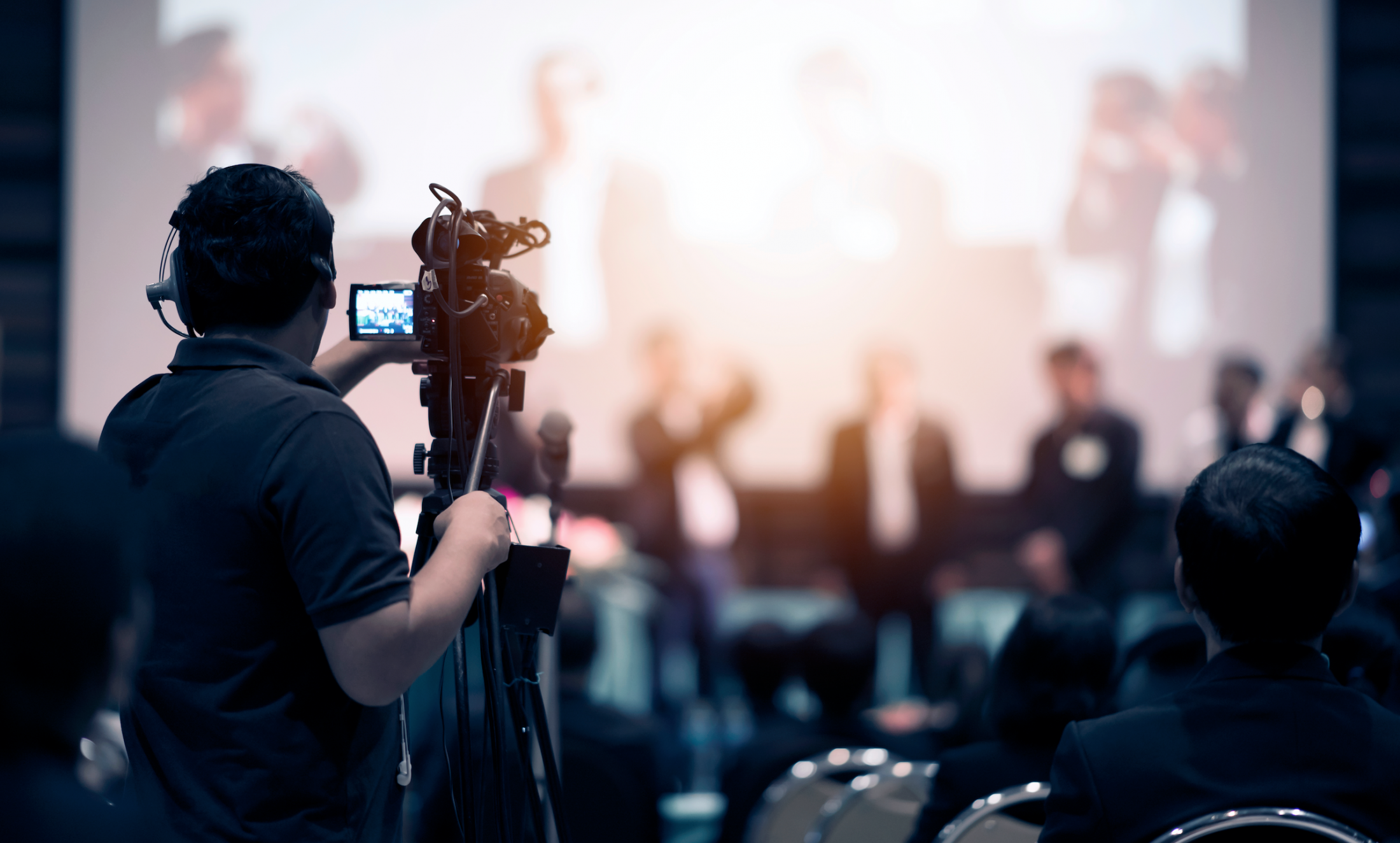 We've all heard the expression, "content is king." While this may be true, it's important to consider the medium involved. Right now, the king of content is clearly video. The 2019 State of Video Marketing report from Wyzowl details numerous survey statistics about the growth and increasing power of using video for storytelling.
Video Production survey highlights:
In early 2017, the survey found that 63% of businesses were using video as a marketing tool. By the start of 2018, that had risen to 81%. Now, in 2019, the number has increased again to 87%.
When someone views information via video, they retain 95% of it. This number is all the more incredible when you consider that only 10% is retained through reading.
The public loves video just as much as marketers do. In fact, 43% of people hope marketers will use even more video in the future. Businesses are focusing on four common video genres: explainers, product demos, how-tos, and testimonials.
12 Tips to Leverage Video Production at Events:
Up the ante on engagement and encourage speakers to incorporate video in their presentations. If you have speakers you want to use who are remote, use streaming video.

Webcast the keynote addresses and other important portions of the event to extend the event far beyond the walls of the meeting space.

Create behind-the-scenes time-lapse footage of the event set-up to play during the event as fun eye-candy.

Produce dynamic videos to set up general sessions and content. If your event is going to launch a new product, sales strategy or initiative, create a video to promote it.

Content capture the video of the training/breakout sessions for delivery on demand after the event either for a fee, for certification programs, or as promotion of next year's event.

Rent a photo, GIF, motion capture, or video booth to create attendee engagement experiences with easy links to social channels.

Under carefully controlled circumstances, use drones to capture cool shots and unique angles of attendee interaction and participation.

Develop 360-degree video and other VR video capture options to post unique views of receptions, exhibits, and other visual event elements.

Elevating your video with motion-capture technology via custom, interactive installations such as LED pixel walls, and Instagrammable tunnels with animations, music, and kinetic sculptures.

A recap video at a closing session is a great way to remind your audience of the event highlights, key topics and themes covered. It's also a great way to say thank you to the attendees, sponsors, and those that made it possible.

Create great video testimonials. Interview speakers and attendees at the event and use them for post-event communication.
Creating a great video testimonial isn't easy—it takes a greater investment of time and effort than many other marketing methods. But a well-made video testimonial can be one of the most valuable pieces of content that you'll ever create. Check out a sample video testimonial created by MIG:
These are just a few ways how to incorporate video production into your event strategy.
Are you investing in video production as a form of storytelling at your events? As you just saw, there's no shortage of potential. It's no longer a question of whether video production for events is a worthwhile investment, it's now a matter of how you can leverage the medium strategically. The sooner you begin using video to share your event story, the sooner you can expect a bigger and better ROI.  Multi Image Group is here for you when you need video production services to elevate your company's video marketing and event strategy.