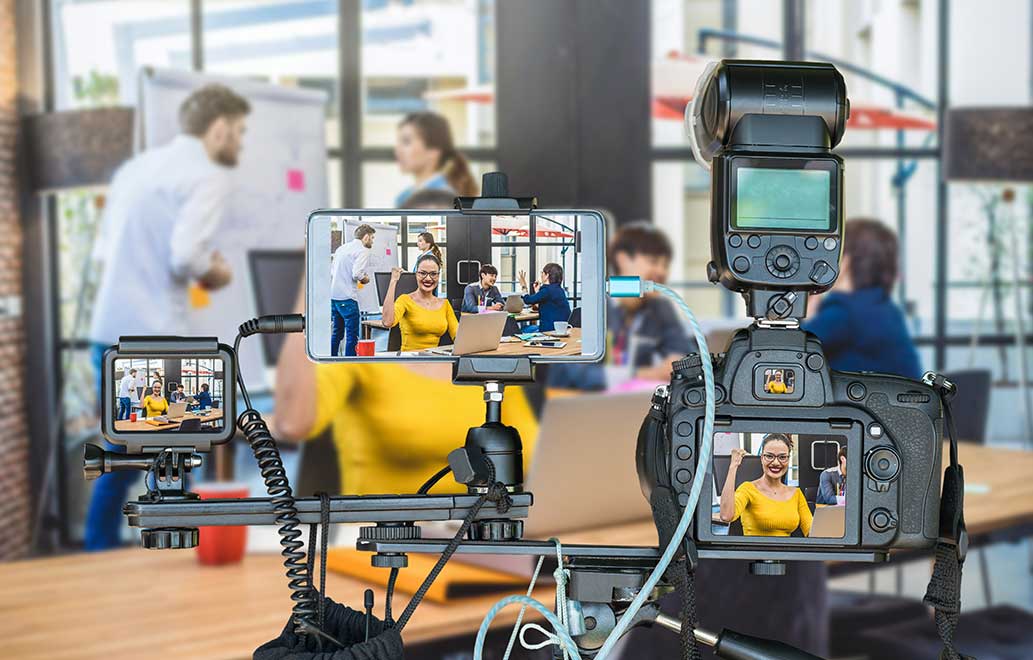 The popularity of virtual events has soared as brands increasingly seek ways to connect with and attract remote audiences. In today's digital age, virtual viewing has become a common practice. Businesses and brands are continually exploring opportunities to leverage virtual events to improve their visibility and establish strong reputations. This is where virtual event companies come into play. They specialize in planning and executing problem-free virtual event streaming experiences for audiences located anywhere in the world. 
Let's explore the five compelling benefits of enlisting the services of virtual event production companies for corporate events and live experiences.
1) Expert Assistance in Event Planning 
As a business owner, you may have a general idea of what you want to achieve with your virtual event. But planning the entire event strategy can be a considerable task. You might be unaware that interactive engagement opportunities, merchandise sales, and various other elements can be seamlessly incorporated into your event to make your audience feel welcome, entertained, and involved.
Virtual event production companies are equipped with the expertise to help you develop an all-inclusive strategy for your virtual event. They can make sure your event aligns with your overall marketing goals, allowing you to achieve wider reach, increased revenue, or heightened brand value.
2) Platform Training and Guidance
A number of virtual event platforms are available to host interactive events. But mastering each platform and utilizing its features to their fullest potential requires time and effort. As a busy business owner, you may not have the luxury of dedicating time to learn every available platform or identify the most suitable one for your brand.
When you hire a virtual event production company, they guide you in selecting the ideal platform and provide training for you or your team. By imparting technical knowledge and familiarizing you with the platform's features and services, they give you the tools you need to effectively engage with your audience, extracting maximum value from your investment.
3) Provision of Equipment
Hosting a virtual event demands a range of equipment, including:
Cameras
A switcher
Microphones
Lighting and more
Acquiring and managing all the necessary equipment can be an overwhelming and costly undertaking.  By enlisting the services of virtual event production companies, you can alleviate these burdens.
When you hire professionals, the hassle of equipment acquisition and management becomes their responsibility. This allows you to focus on the strategic aspects of the event and better guarantee that you are fully prepared to captivate your audience.
4) Technical Support and Expertise
Virtual events can encounter any number of technical challenges that may disrupt their smooth execution. To maximize the value and overall effectiveness of your event, reliable technical support is important. When you hire professionals to handle everything, you eliminate the need to worry about intricate technical details.
Experienced production crews have contingency plans in place for equipment failures or slow internet connections. They excel at thinking outside the box and are well-prepared to swiftly address any unexpected issues that may arise during your virtual event.
5) Comprehensive Event Management
Organizing a virtual event can quickly become a logistical nightmare for those unfamiliar with the process. Using virtual event production companies provides you with the comprehensive support required at every stage of your event. With their expertise, you can rest assured your audience will be left amazed.
These professional teams oversee all the vital event details, including scheduling, technology, equipment, and production. From event sign-ups to distribution, they handle everything, guaranteeing a smooth experience for all participants.
The Best Event Production Company For Your Corporate Needs
For exceptional event production and communication services, including live events, exhibits, multimedia engagements, and more, Multi Image Group (MIG) is the go-to company. MIG possesses the end-to-end capabilities to bring your brand story to life in ways that forge emotional connections, alter perceptions, and drive desired outcomes. Experience the power of  MIGstream and virtual events, which flawlessly combine cutting-edge technology with immersive storytelling. 
To contact MIG, dial 800-523-2682 toll-free or reach out to our Main Office at 561-994-3515. You can also conveniently use our online form.