---
Everyone is thinking about it… what's the next evolution of live events?

---
Some call it Hybrid, we call it the future. Blending a live-stage event with a smaller local audience, and a larger online remote audience is going to be the key to creating your next-level event. So how do we develop this new live experience for attendees in the ballroom and at home? We believe it's all about designing and creating a shared human experience with unique engagements and moments that blend both audiences together using technology and crafty storytelling.  While many clients miss the live interaction, hybrid events help merge the live and virtual audiences into a new category that elevates both audience experiences. This means that you can do many things to ensure a positive connection with key messages and each other.  This is an exciting time in the direct-selling industry, it's a chance to introduce audiences to a new multi-level experience and strategically amplify a live experience.
How should you decide whether to go live, virtual or hybrid?
Well, which one is going to be best for your audience? At the moment, the decision comes down to the kind of connections that you need to make. Many events have a combination of key moments ingrained in the design. Typical conferences have three main components: award celebrations, announcement of new product launches or service offerings, and training. If you cannot do a live event with your full audience, virtual is a good solution. You should consider breaking your event into laser-focused show segments that can mid live components with pre-recorded sections.  However, the connections to your valuable training, new products and awards may be lessened.  Is it "good 'nuff," though?
A hybrid solution can bring the best of both worlds together. A live event with an exclusive, limited live audience experience mixed with virtual attendance means you can create a customized event giving you the best of both worlds. Celebrations for top-level achievers, connections to pre-recorded content, and round-table discussions for both audiences and a larger audience reach than your previous live event – all thanks to the addition of virtual attendees. The cost per attendee can drop for the added virtual attendance. Social extensions can be used to tease, engage, and share the moment while, the virtual component can be a conduit for the like-minded to access additional layers of information such as on-demand content or a live feed from perhaps General Sessions looking to inspire and influence their audience(s).
What about the planning aspect of it?
Planning for a hybrid event isn't so different from a traditional conference or show. However, this is where having the right partner in your back pocket is going to directly impact your attendee experience. There are a number of important aspects to consider when creating any live event. When you add the virtual audience into the mix, we need to consider how best to create experiences for both audiences to maximize engagement and connection. The hybrid attendee has a different set of needs and expectations compared to in-person audiences.  Attending a live event means you are part of the event. You attend sessions in the ballroom and network with colleagues. The expectation is that you are going to be part of a group of people who got a chance to attend this moment, gather information and use it to advance yourself and your team. For the virtual audience, we should build upon our live event and create an alternate that shifts the focus to the virtual attendee. We don't need to match the experience.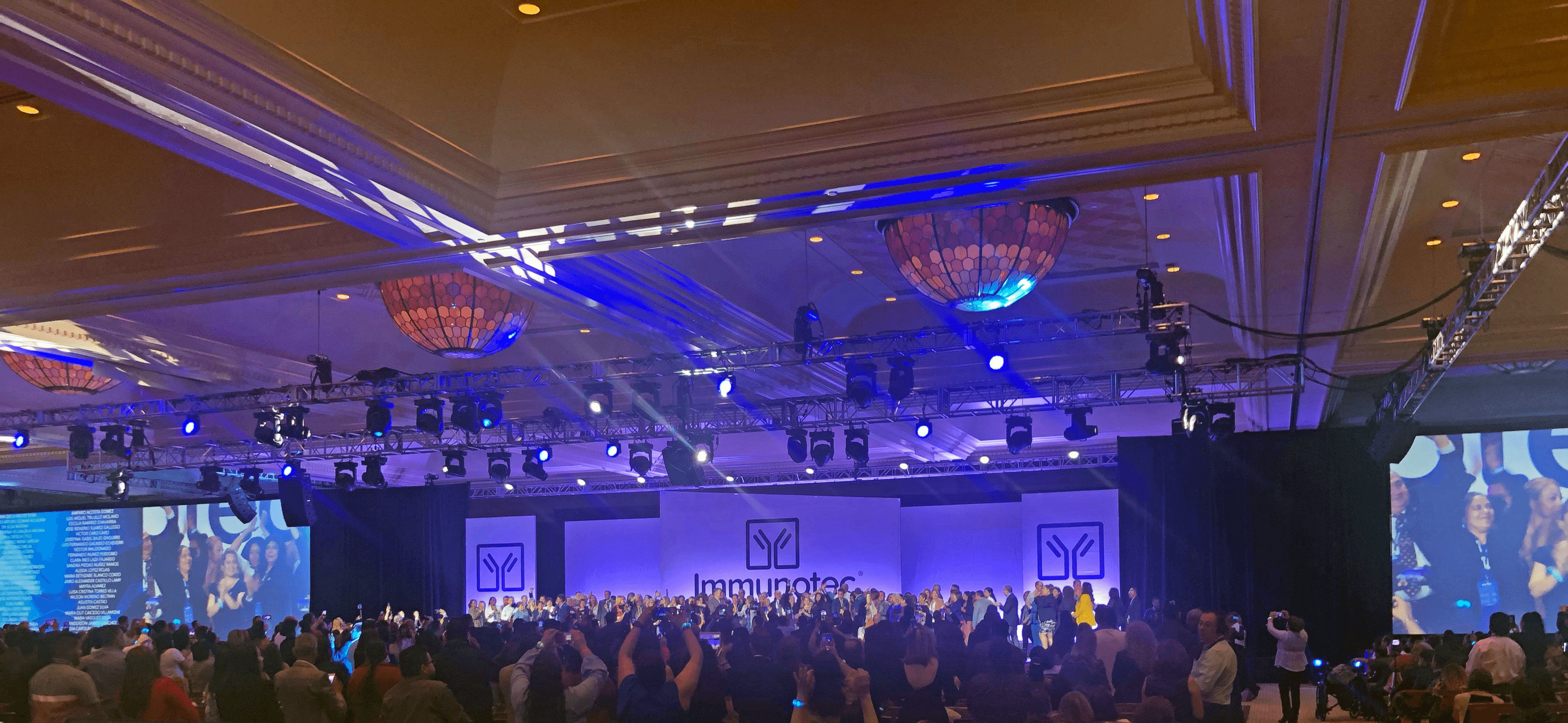 ---
Think of this like watching a live sporting event on television. There are a limited number of seats available at the stadium, but to maximize the reach, we can watch the same event from home. Nobody at home expects to catch a ball or smell the food in the air. We're probably not going to have to contend with a fan from the other team sitting next to us or deal with long lines to get a hot dog. For some, watching from a distance is more enjoyable, and that is the major shift that we should consider going forwarded with live events. In this example, maybe one lucky viewer gets a game ball? Virtual attendees get a gift card for a free burger, and maybe they get to have their face shown on the big screen at the game. All of these tricks can be folded into the experience to make solid connections beyond the event. In doing this, your planning will need some extra consideration and perhaps some additional budget to account for this expanded audience. Your ROI can be improved greatly when properly building out your event for both audiences.

Aim to create events that fit into a model that gives people information when and how they want it. Start by thinking about the interests of the attendee. How about polling your audience before you put your show together? We've seen success in "roundtable" group scenarios where a facilitator initiates topics and regulates the conversation, keeping the content micro-level in a compact way. Attendees can choose their subjects ahead of time, based on those topical headlines. Or what about the networking aspect? You don't need to rely on platforms to create networking elements. Find correlations between various attendees and group them together – think of it as shopping on Amazon: going to their website to buy something specific vs only browsing. Both experiences are so in-the-moment, so specific, while still being at your own pace.

Our world-class client Mary Kay is the ideal hybrid case study with their show SEMINAR 2021. Their challenge, quite frankly, was how to synergistically engage, reach and inspire their vast international network of amazing affiliates, sales directors and fulfillment divisions. A feat that seemed daunting at first to Mary Kay, but *MIG has navigated large-scale experiences before, so we were in familiar territory.

---
Using augmented elements and virtual environments can enhance the experience for both presenters and attendees alike, creating live experiences that are entertaining and engaging. And this is just the beginning. Everyday MIG is redefining live and virtual realities - from digital, to hybrid to the virtual beyond.
The event marketing space is ever-changing, so being ready to activate events wherever and however is pivotal. As an event marketing and production entity, we are always researching, searching, vetting, and developing new and impactive ways to impress upon our clients' motivations. Our onsite innovations studios and Imagination Lab tours have been abuzz with new technology and interactivities. In the months ahead, MIG is on a quest to demonstrate how direct selling companies can elevate experiences 'beyond' what marketers perceive events to be today. Look for our live and virtual demonstrations on mig.cc
We have found that the most valued component to executing truly successful events and/or activations is togetherness. No one person, team and entity can execute impressionable events, it takes a team of professionals who care and will do anything to see it through. So be good to yourself and one another. See y'all on the road!
* MIG proudly supports 19 DSA member companies over the last decade.
* Executed over 300 Virtual events in 2020.
"This was certainly the MOST complex [virtual] show I have ever worked on, and your team was the glue that held us all together!  I truly cannot express how much I appreciate each one of you for your patience, incredible character, expertise, creativity, professionalism and your fantastic partnership and collaboration.

I am truly honored to have had the opportunity to learn from and to work with such an incredible team!"
No matter what's going on in the world, MIG can help you engage your audience in virtual ways that move hearts, change minds, and drive results. When would you like to begin?