What's Next for Virtual Events?
The COVID-19 pandemic changed everything: Not the least, cutting off the critical human interaction function of meetings and events. The move online was a shock to the system, and while MIG has partnered with clients in clever, compelling, and cost-effective ways virtually, we also have a plan for the next phase of meetings and events. Enter Hybrid Events!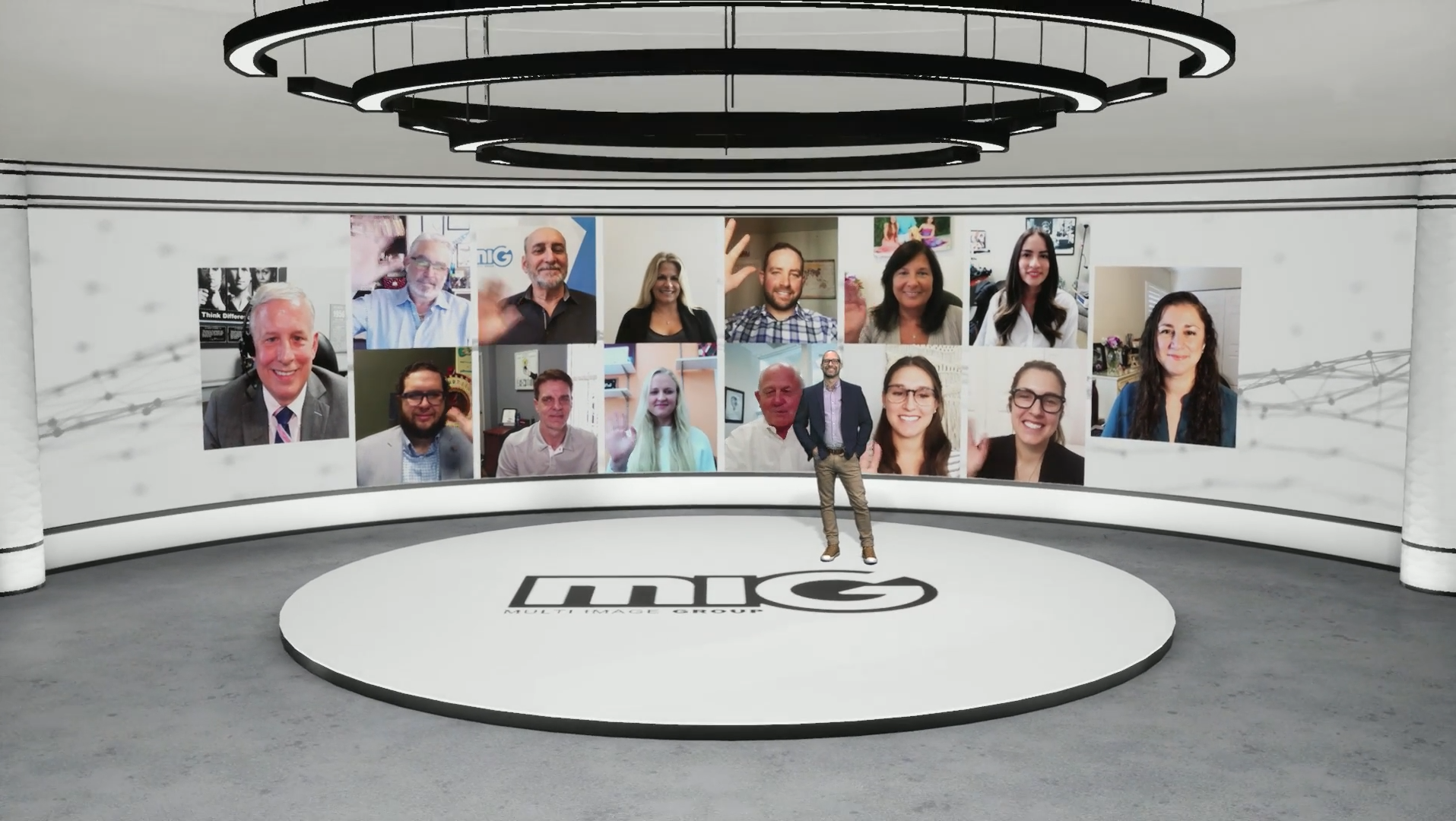 Follow the New Rules of Virtual Events
The new rules of virtual events – reimagining, not repeating formats and agendas; taking advantage of broadcast's faster timing and limitless visual capabilities; integrating entertainment and lots of interaction – all have had a powerful and positive effect on events, and more importantly, audience expectations. So, what is a hybrid event? Simply put, take your live event, complete with a physical audience, content, and more. Then add a virtual show so your audience can view and engage with your event, no matter where they are! Hybrid is a step forward in bringing the absolute best of virtual events into the mainstream, and it's going to be very exciting!
Get Strategic with Event Budgeting

Pricing will depend on your physical event size and the level of virtual event features desired. However, there are ways you can manage costs while increasing the event's value-add and long-term impacts. One such way is to encourage the limited live audience to consist of those who need to engage face-to-face to drive objectives. Because virtual attendees do not have to pay for travel or accommodation, this will minimize their costs; and the virtual components' production value will increase. If you are in an industry that allows charging for admission, this provides funding options to enhance both the live and virtual segments.

Communicate Value to Audience

Think about your offering; how will your attendees apply the information to advance their careers or enhance their personal life? Can your event offerings convey added value in marketing and communication materials, so attendees perceive virtual events as valuable as live? Hybrid Events are likely going to offer voluntary attendance, so we will have to be diligent in justifying the value gained from either choice.

Think Decentralized Locations

Hybrid Events will start with smaller live hubs and either a dispersed remote audience or possibly a network of small regional live hubs. This decentralized way of a meeting may mean the smaller live show will likely be where your key leadership and key networking guests come together, but most of your audience will still be remote. And that means the remote production cannot feel like an after-thought or a livestream. Your remote audience deserves and expects a high-quality virtual experience that makes them feel as special as the live audience.

Create Shareable, Pre-Recorded Content

Let's focus on creating more sharable, pre-recorded content like pre-packaged story segments, guest interviews, entertainment segments, product stories, and more. The more sharable, on-demand content that remote and live attendees can reuse and repurpose post-event! This translates into higher ROI, more mileage (and sustainability) you will get out of your Hybrid Event. MIG has a powerhouse video and editing department, and we can help you with all your pre-recorded video needs.

Consider Blending Live Scenic with Virtual

MIG recommends creating a blend of hard and greenscreen set elements that blend the remote experience with the live one. This approach may also help lower costs, as you won't have to double up on all production crew personnel. If you want to run a successful Hybrid Event, you will likely need to ensure that both the physical and virtual components are high-quality productions.
Make MIG Your Hybrid Partner
The right event production partner will offer creative content and components that make a memorable and meaningful live and online event. This is where MIG comes in! We can help you plan it, write it, design it and execute it and leave no attendee engagement stone unturned—all while hitting your goals.
MIG's Team of Experience Makers is dedicated to helping you tell your brand story in ways that move hearts, move minds, and move the revenue needle. No matter what is going on in the world! Learn more about our live, virtual and hybrid offerings or contact us – we're excited to talk with you!
"Extremely impressed with today – the team was OVER THE MOON with the level of support you all provided and they were happy to have the "A Team" back – we couldn't do this without you guys. You are an extension of our team, and we greatly appreciate everything that you do!"